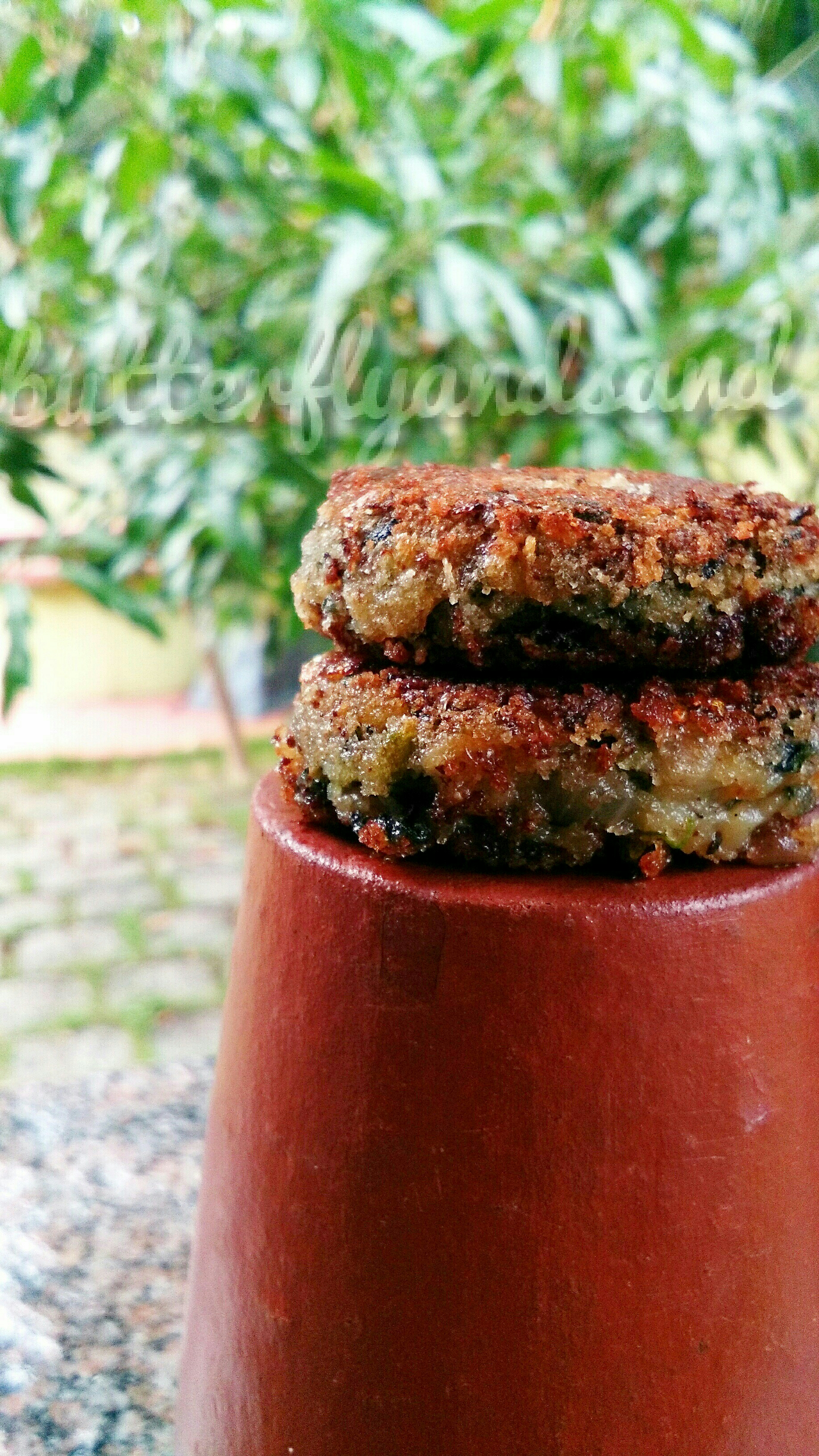 Cutlets and I have a soul connection. Every time I hit a bakery the first snack that I my eyes would search for is "cutlet". The favourites include chicken cutlet and beef cutlet! 😉 Amma saw this recipe in  a "taste time"  episode we tried it twice! Once with store bought green variety Cheera and later with home grown ones. So you can use any variety of Amaranthus available.The recipe called for  baby potatoes as it gives more taste. You can also use normal potatoes.These cutlets are neither spicy nor has masala  in it flavour unlike any other cutlets.
Yet another recipe with few ingredients with no compromise in taste…You can either deep fry or shallow fry these cutlets as you wish but I suggest  shallow fry.And a best way to include Cheera/Amaranthus in kids diet.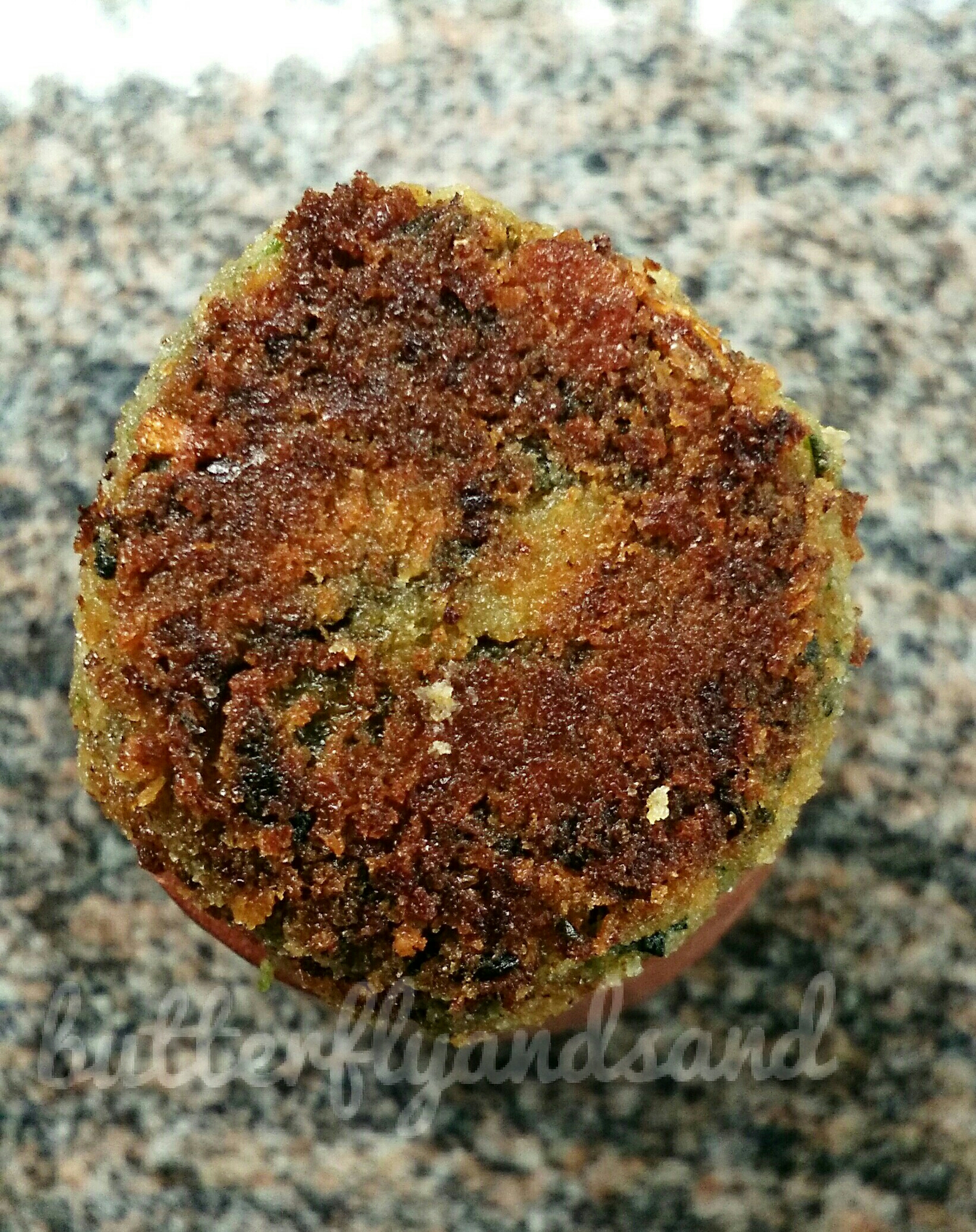 Spinach Cutlets: (makes 7-8 medium cutlets )
potato (boiled)                                                                      : 1 (normal ones) or
baby potatoes (boiled)                                                       : 3-4 nos
shallots/small onions                                                          :10 no thinly sliced
Amaranthus/Cheera                                                            :100-150 gm
pepper powder                                                                    : 1/4 tsp
garlic cloves                                                                         : 4-5 no's thinly sliced
salt                                                                                          : as per taste
for coating :
maida  /all purpose flour                                                    :1-2 tsp
water                                                                                     : 1/4 cup
rusk powder                                                                         : 1 cup
Oil                                                                                           :  deep frying/ shallow frying
Method:
Wash and chop the Amaranthus/ Cheera finely leaving the stems .
Mash the potatoes and set aside those as well.
Heat a pan ,once its hot add 2 teaspoon of oil , add in the  sliced  garlic and shallots and saute them until translucent.( do not brown them)
Once the onions are  well sauted ,add the chopped Amaranthus/ cheera and mix well.
Add  salt and saute it to combine with everything  and let the amaranth cook well.( do not add water! cover it using a lid, if required)
Keep checking in between if the amaranthus is cooked well.Let it be dried mixture leaving all the water.
Take it off the flame and sprinkle  pepper powder and give a quick mix.
Add  this mixture to the mashed potatoes and combine everything very well to form a dough.
Make sure there is no water content in this.( add two teaspoon of rusk powder if so)
Start making medium sized cutlet balls out of it . And shape it as you like it ( you can just flatten them, roll or even using cookie cutters)
In a bowl , mix the All purpose flour/maida with the water  and take the bread crumbs in a plate.
Dip each cutlets in maida and roll it in bread crumbs . Set aside in another plate
Heat pan by adding 2 teaspoon of oil( if shallow frying) and add in the cutlets once the oil is hot .
Bring down the flame to low and let the cutlets brown , turn it otherside and repeat the same.
Take out the cutlets once they are  done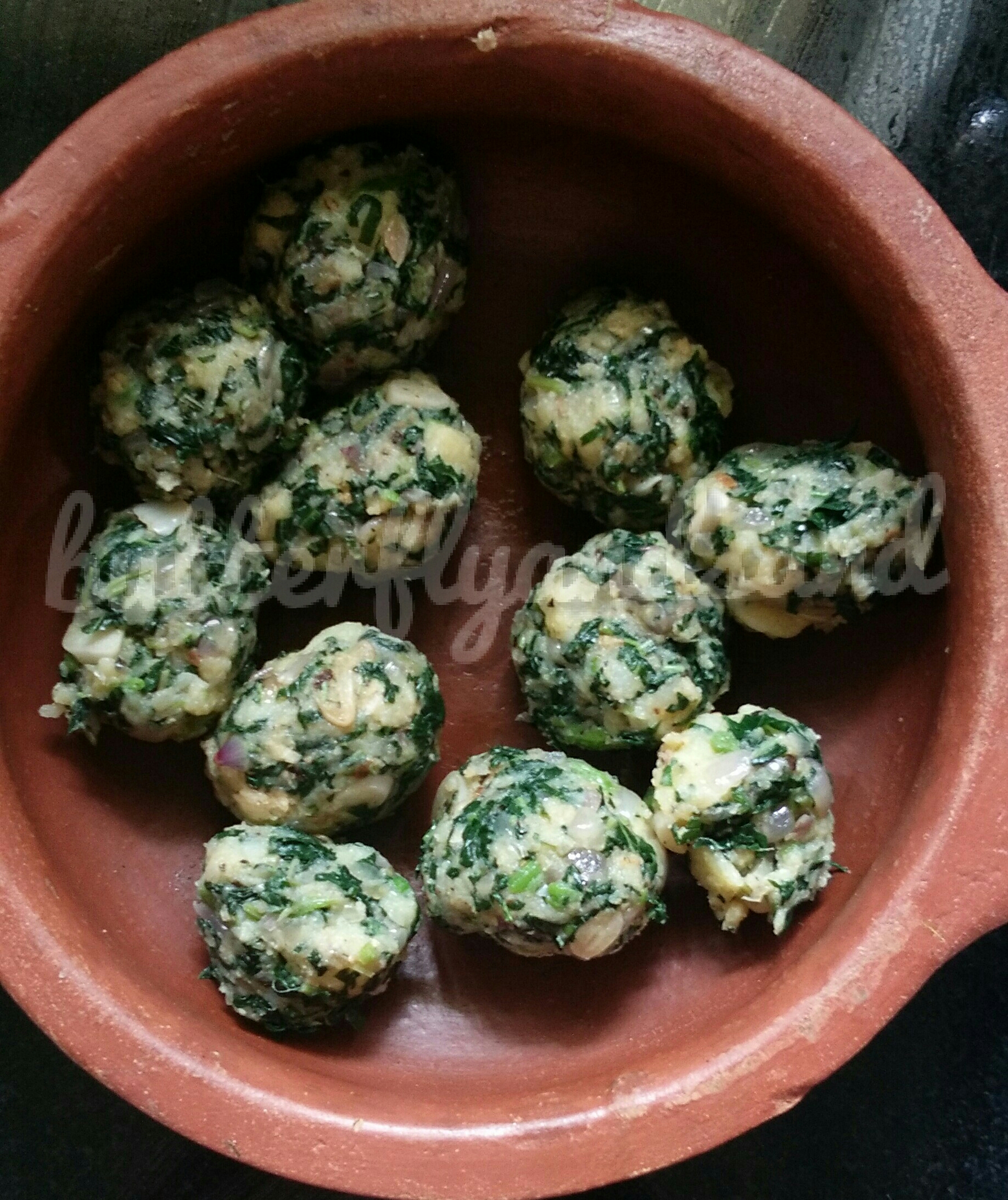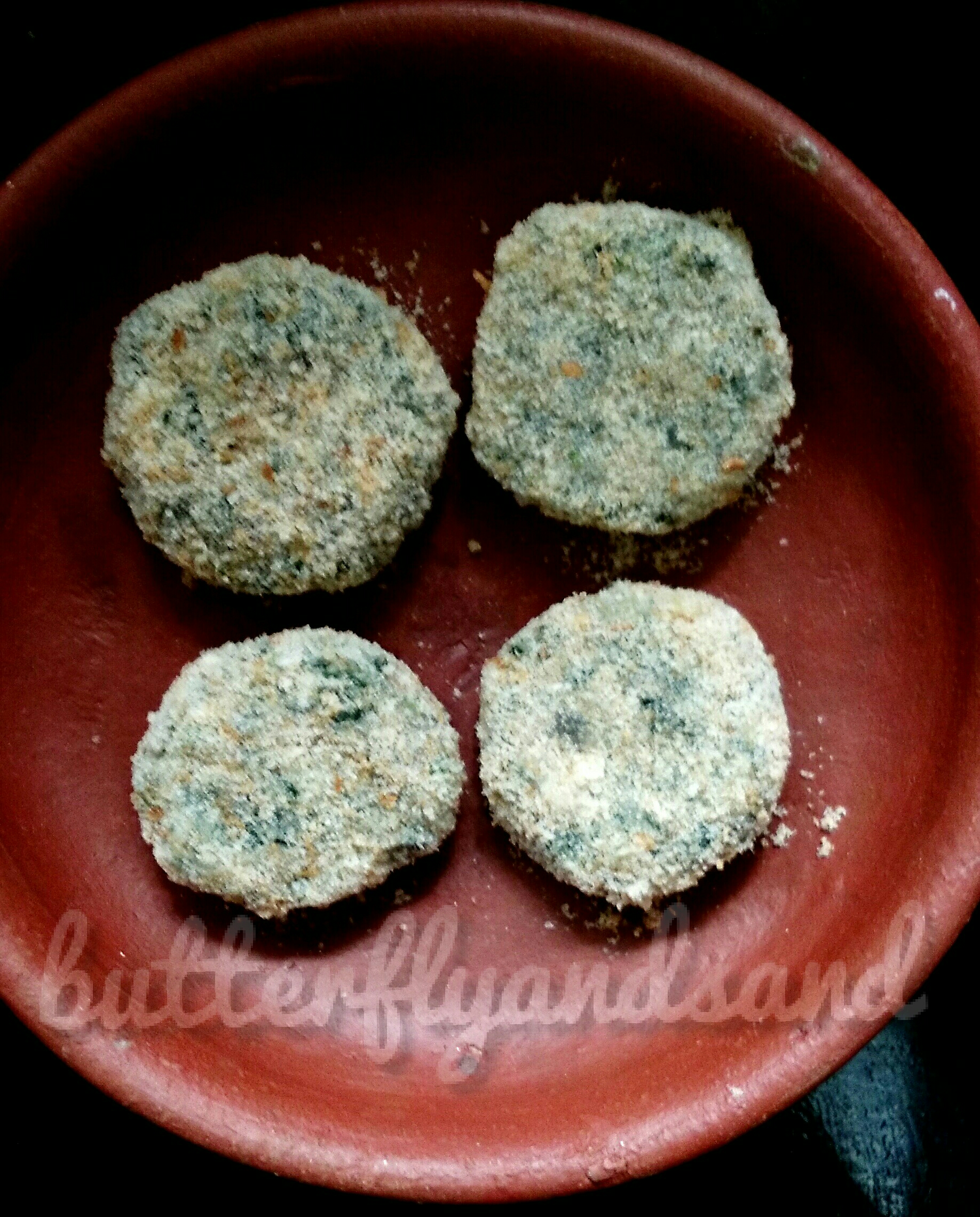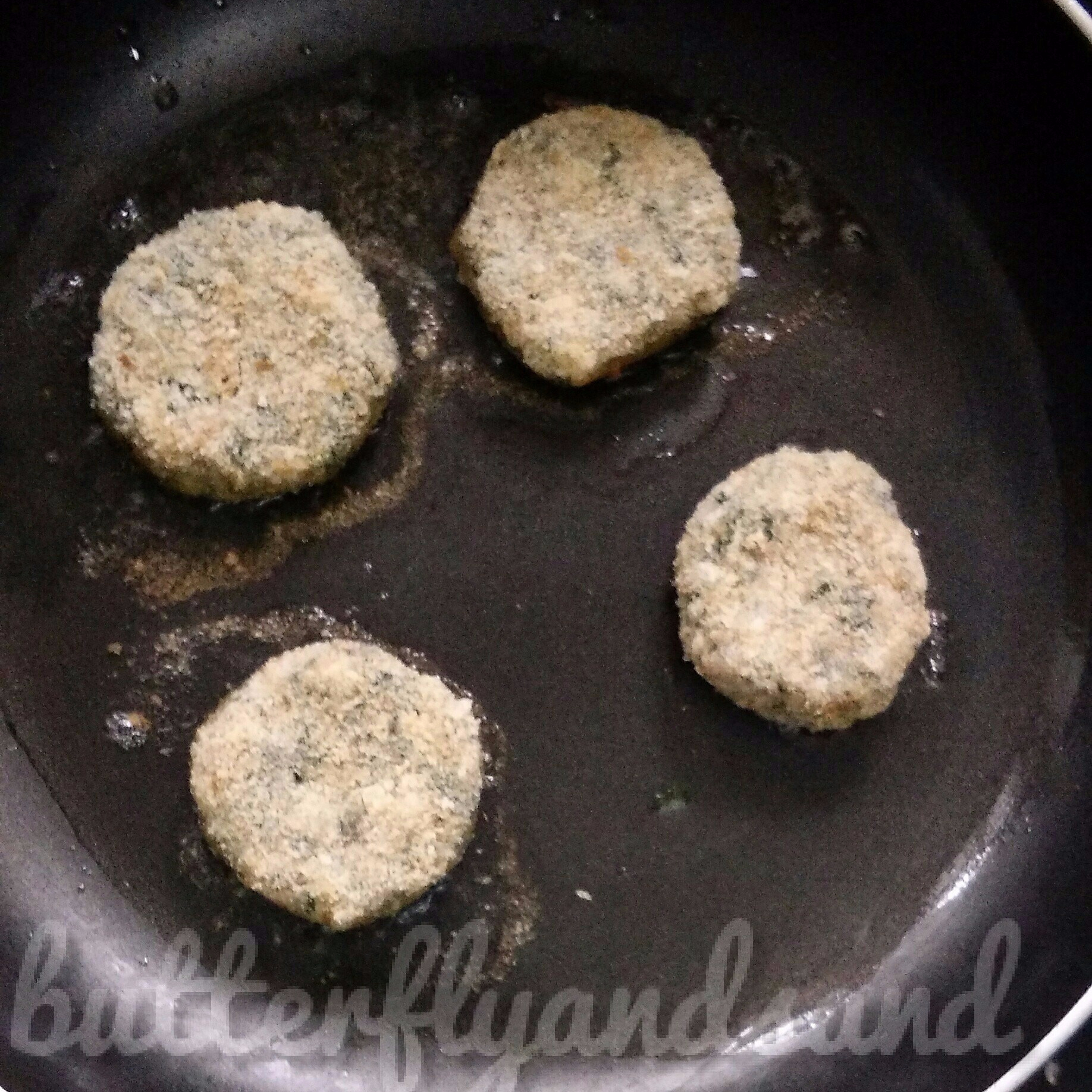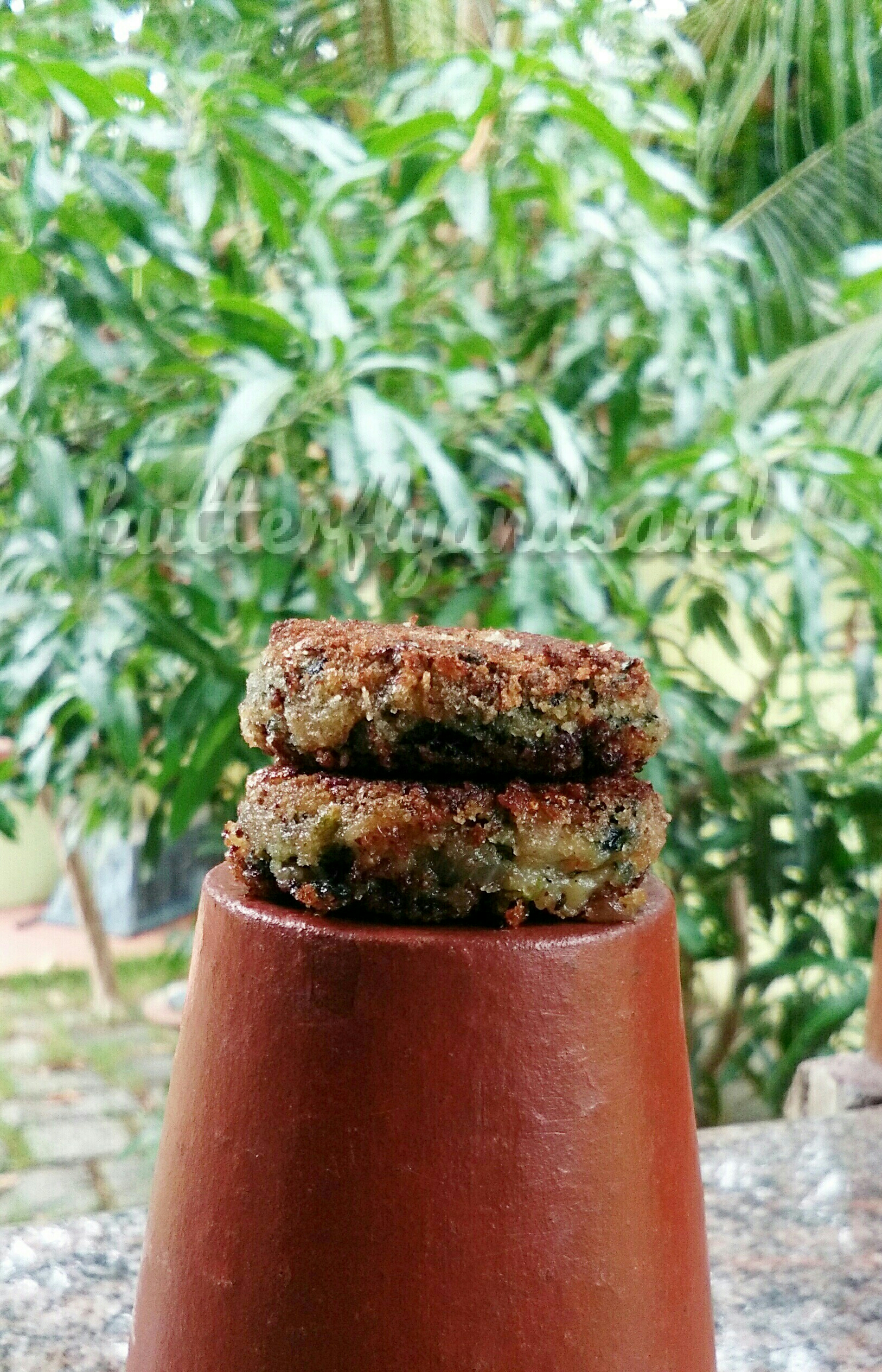 Notes:
For 250 gm of spinach ,you may use 2-3 medium potatoes and 5-6 baby potatoes.
These cutlets may look slightly mushy when shallow fried.
There is no compromise in using Shallots!
Cook the Amaranthus thoroughly before adding it into potatoes.
The maida mix has to be thin and slightly runny.
Happy Cooking,
lekshmi